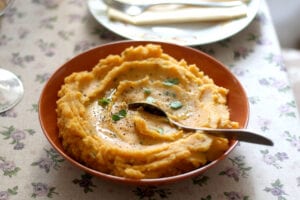 Now is the perfect time to try out a tasty (and healthy!) fall side dish. Join us for a virtual cooking class from the comfort of your own kitchen.
Caitlin Bus, dietitian for Renown Healthy Heart Program will cook a Thanksgiving side dish: Cauliflower Sweet Potato Mash. Best of all, you'll get to choose how to make yours: Sweet or Savory.
RSVP for this event below or call 775-982-7787.
You will receive the recipe in advance so you can shop for the ingredients, prep them and cook virtually with us during our live cooking class.
All cooking skill levels are welcome!
Equipment needed:
stove top or oven
medium pot
steamer basket
knife
cutting board
food processer or potato masher
Monday, November 16, will be the launch of the Silver Plate Cooking Classes, which will be held every third Monday at 4:30 p.m. We hope to "see" you there!
This event is offered virtually via Zoom. Here are instructions to connect to this event:
If you are having trouble connecting, please call us at 775-982-7787.
Join Zoom Meeting: https://renown.zoom.us/j/97363633694
Meeting ID: 973 6363 3694
If you are not connecting from a computer, join us by calling 1 (408) 638-0968 and when prompted, type in the conference ID: 973 6363 3694#
This event is a part of Renown Health's Sterling Silver Club, a free program offered for men and women ages 55 and over. Learn more and sign up to be a member at renown.org/SterlingSilver.